WVU's dance studio sits on the top floor of E. Moore Hall with arch windows facing the heart of the downtown campus.
Inside students learn various types of dance including ballet, modern and jazz but as last semester drew to a close, a group of 16 dancers had the opportunity to learn something different: a hip-hop and West African piece.
The piece titled "Piece of Mind" was choreographed by Miami-based artist Robin Sanders who visited WVU in December. It includes music from "United in Grief" and "Mother I Sober" by Kendrick Lamar.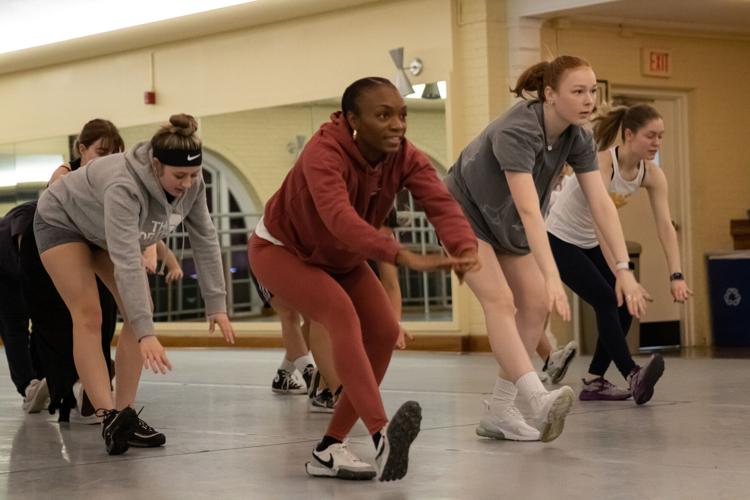 "It's essentially just kind of dealing with the inner grapplings of self," Sanders said.
The piece also addresses how artists are navigating the post-pandemic world, according to Sanders.
"In this culture, in this cancel culture, what is happening to artists that are having to redefine themselves coming out of COVID, that was something that was really interesting and intriguing to me," she said.
"Piece of Mind" is inspired by another piece Sanders is working on titled "Love is the New Black" in which her lead character struggles with her sense of self.
"You get to see her inner grappling with all those kinds of heavy topics of faith, identity, all those things coming out of COVID and being kind of thrusted into this space of self-examination because she was isolated," Sanders said. "So what I'm doing with this piece is kind of working through how I saw things in my mind."
These themes of identity, acceptance and belonging are represented visually as the dancers are grouped into ensembles representing the concepts of home and generated others.
"You'll see movement happening between the two. So the inner grapplings are really kind of depicted through these casts of like generated others or home. Home being like that kind have line of defense that keeps you sane and then generated others representing sometimes the external chaos," Sanders said.
This message-based approach to choreographing has long been part of Sanders' work. To her, dance is a form of activism.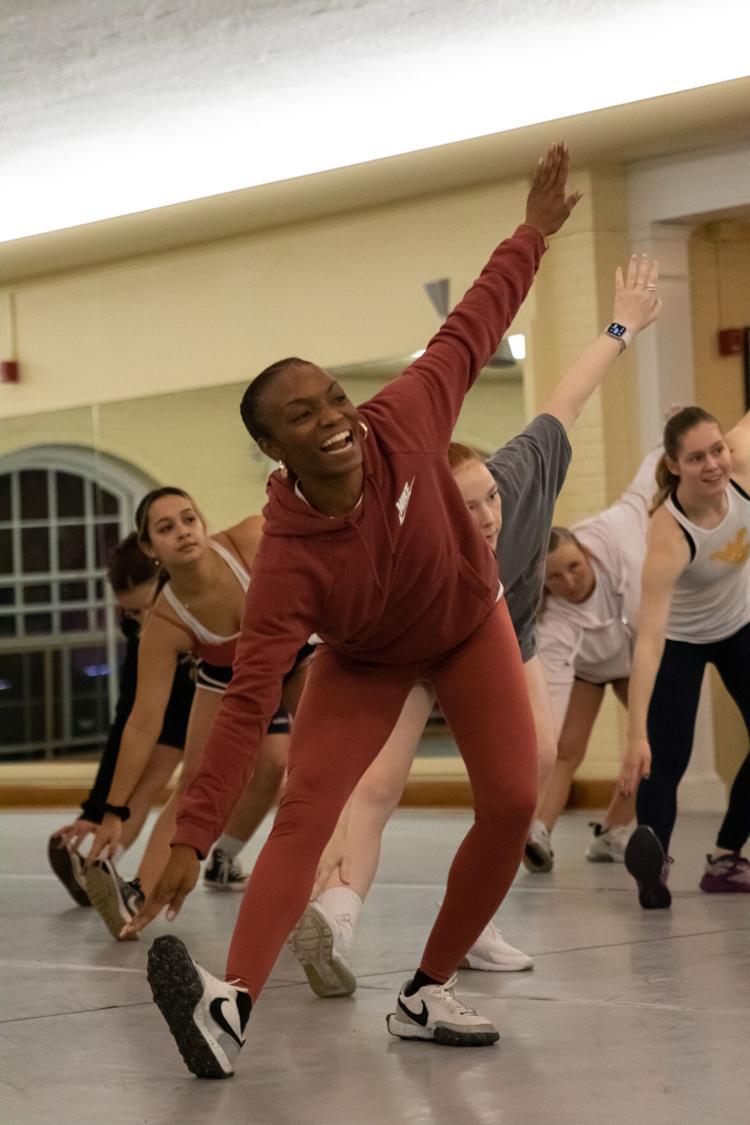 "I might not protest and picket on the front lines," she said. "But when I'm able to do work like this, this is my own activism. But it's also my own catharsis and it's also my own liberation."
Sanders' work is about showing the world what she has to say and about bringing respect to genres of dance that she says are too often labeled "recreational."
"I feel like sometimes the hip hop and those types of cultural dance don't necessarily get the respect that they deserve and so it's always my intention to say something when I'm creating work."
WVU's dance program typically invites a guest artist to come and work with students every other year. Sanders' visit to WVU was made possible by General Hambrick, a WVU professor of dance and musical theater who met Sanders while working on a version of the Nutcracker in Memphis, Tennessee.
"I just loved her choreography in the show," Hambrick said.
By inviting Sanders, Hambick hoped to bring more diversity in movement to WVU's dance students.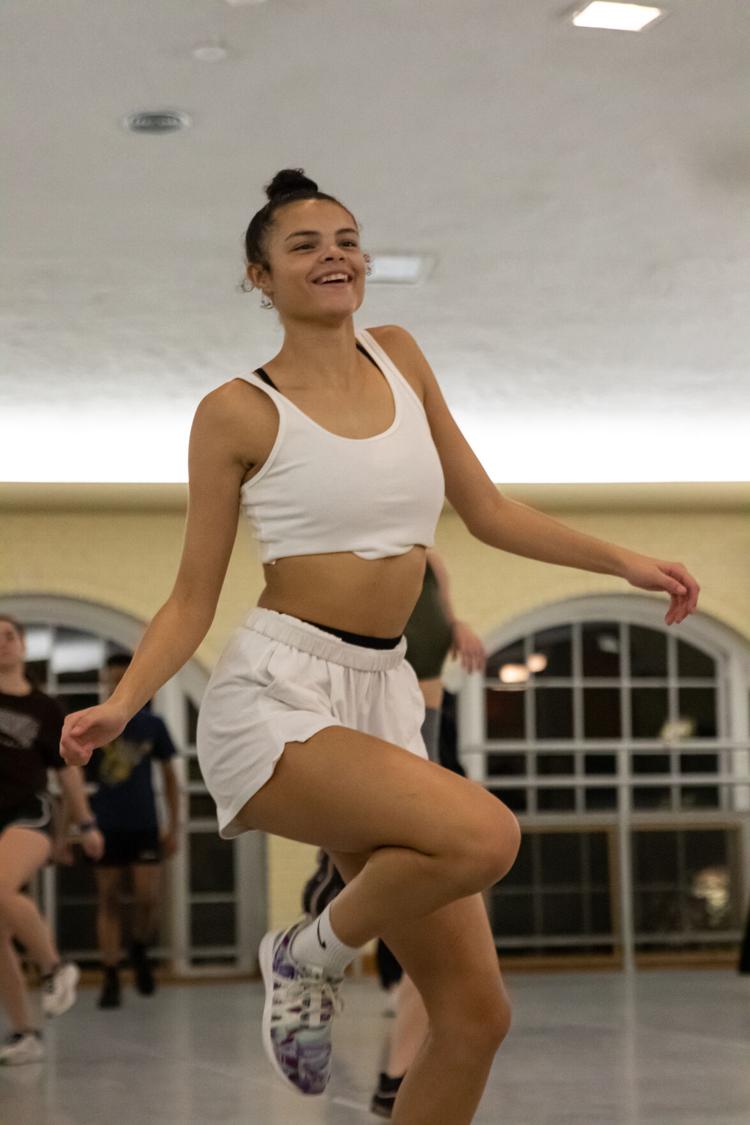 "The idea was to bring something to the students that they've never done before," Hambrick said. "And that is a more diverse look at choreography and the fact that it's West African, which is never taught here."
Megan Troppman, a junior dance and animal nutrition science student said that Sanders has not only taught her a new style of dance but also a new approach to art.
"She's really brought a new aspect of art to our program," Troppman said. "So on the dance side, I've learned new technique and a new style. So that's been really interesting, but also she's kind of taught us a different way to be an artist and kind of taught us her artistic process, which has been really interesting to be a part of."
To Sanders, the ability to bring this education to young dancers means everything.
"To be able to bring this in and help students in academia have a fuller dance experience, that's just great. So for me, I feel like every dance program should and that would help to dismantle some of the hierarchy," she said.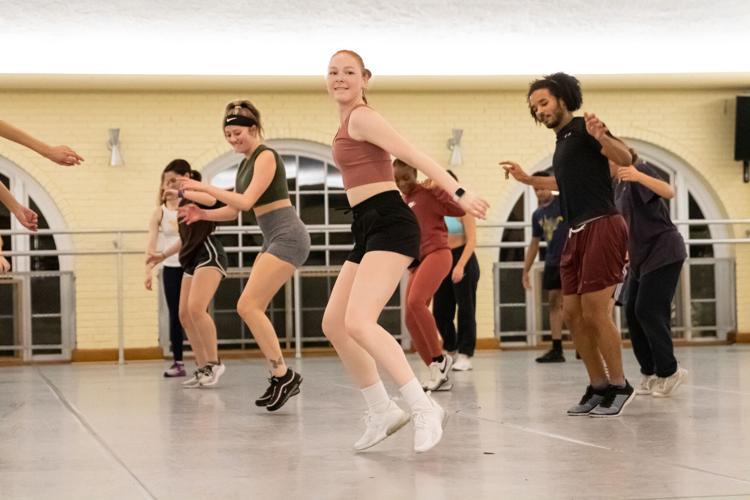 'Piece of Mind' will be performed during the School of Theatre and Dance's annual concert 'Dance Now!' at the Metropolitan Theatre on Feb. 2 and 3 at 7:30 p.m. and Feb. 5 at 2 p.m. 
Tickets are available online for $20 at cal.wvu.edu/event/dance_now. For more information and to stay up to date, people can visit the School of Theatre and Dance's website or go to @dance_wvu on Instagram.